In our new digitally social world we have only but two seconds to capture the minds and hearts of our audience as children younger and younger are becoming attached to devices. These new trends make it extremely difficult to connect and engage with students. Here at the Hebrew Academy, the Judaic program has a special way of entering the hearts of our students, connecting with them personally while empowering them to be lifelong learners.
Research has proven that technology has changed education negatively, deteriorating students' competencies in reading and writing, dehumanizing educational environments, distorting social interactions, and isolating individuals. Hebrew Academy continuously works hard to change those trends. Our small class sizes, warm and nurturing teachers that make it their business to find personal connections with students, differentiate instruction whenever possible, and take the time to show every child they matter are part of the family and amazing community that makes the Hebrew Academy a special place to belong.
Yet, our Judaic program takes it one step further and the personal connections created here last a lifetime. Teachers look for innovative ways to take the students out of the classroom to inspire curiosity to question more, engage more, and share more.
Each week students are empowered to have a personal life lesson to share with their families at their Shabbat table. Aside from the confidence they have to share the reflections inspired by the week's Torah portion, they have taken the time to create a meaningful, personal and relevant connection with ancient text that shapes our people. Here they learn that there are no wrong answers, what they think matters, and what they believe they can hope for.
The Jewish Holidays are an especially exciting time for academic connections to be made with real-life experiences. A fun, engaging, hands-on activity like making a honey cake for Rosh Hashanah helps our students connect their math classes with an exciting and special time in their life. Aside from the excitement they feel for celebrating the holiday they recognize the importance of honing in on their math skills to achieve some delicious results.
Lessons continue outside the classroom, as our students go to the field to pick pomegranates for Rosh Hashanah, Etrog for Sukkot, and many of the other species that Israel is blessed with throughout the year. It is the natural curiosity about the things they see and experience that drives the lessons as we encourage our students to stop, think and wonder - skills that are often overlooked in our fast-paced media world of today.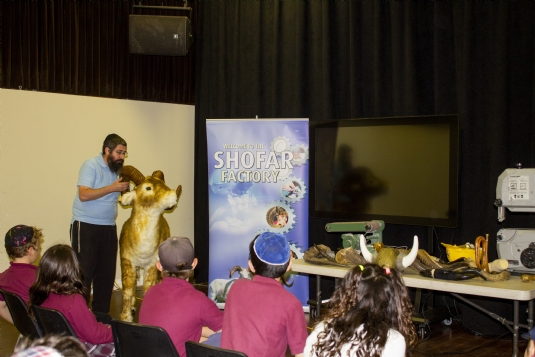 We bring the farm and the animals to the students and show them through a hands-on demonstration how a shofar is made today. The sight, sounds, and yes even smells, excite their quest for knowledge and engage them beyond as they create their very own shofar to take home - a gift they will treasure forever.
Technology used properly and 21st Century Skills are another very important part of the Judaic curriculum and the students are often seen working in teams creating and designing brochures or guides to celebrate the holidays. Again it is the personal messaging they include that inspires relevance, meaning, and personal connections for our students.
Judaic and General Studies teachers make it an important part of their program to connect and collaborate with their counterparts and work as teams to maximize and support students learning on both fronts. You will often hear a General Studies teacher referring to nouns and verbs learned within the Ivrit program to strengthen, personalize and create a connection between all departments. When the learning experiences become full circle for our students the passion inspires meaning and purpose across all fronts and helps our students achieve remarkable results. While the schools across the country measure learning loss, here at the Hebrew Academy we celebrate the success, joy, and drive that our students to meet and exceed grade level benchmarks allowing us to build on their success.
So this Rosh Hashanah, as you listen to your child share the joys of the classroom, understand the value of the lessons and experiences they have received. Nurture their passions and curiosity, but most of all beam with nachat and pride as your child puts values into action validating the principles by which you live your life as you envision the amazing path they embark on to adulthood.
L'chaim to an amazing year!