Welcome to The Hebrew Academy
Orange County's award-winning K-12 Jewish day school.
The Hebrew Academy is more than just a school; it's a community
that honors our Jewish roots, nurtures our students' unique talents,
and inspires lifelong innovation and creativity.
With our dual curriculum, cutting-edge technology, and nurturing environment,
we help students develop the critical thinking, communication, 
and problem-solving skills they need to succeed.
Here's what sets The Hebrew Academy apart:
Learning is engaging and challenging at The Hebrew Academy. Our curriculum blends rigorous General and Judaic Studies to build students' critical thinking, communication, time management, and multitasking skills. In addition, our students learn to ask "why" behind each lesson, discovering how each subject connects to their Jewish heritage.
Our students learn in a supportive environment that balances social-emotional learning with academic achievement. Our teachers are passionate about helping every student reach their full potential, and they do so by recognizing that every child learns differently. We offer accelerated learning opportunities to help our students excel in their areas of strength.
At The Hebrew Academy, we teach our students to embrace their Jewish identities and heritage, integrating Jewish values of kindness, honesty, compassion, integrity, and respect into their daily lives. Our community welcomes families from all backgrounds, and our students develop lifelong friendships under the guidance of caring teachers.
Unlock Your Child's Potential with Hebrew Academy:
A Unique Blend of Excellence, Character, and Innovation.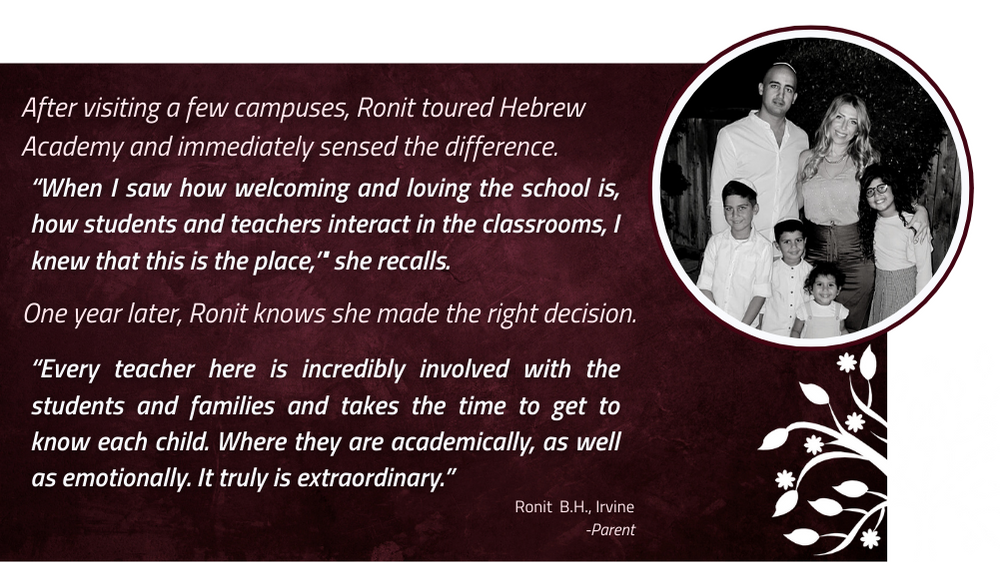 WHERE STUDENTS
BECOME SCHOLARS

95%
of students in Tier I in standardized assessments in math and reading
 
97%
of student met or exceeded
National Standards on
College Board exams
 
98%
of graduates accepted into
higher education institutions
At The Hebrew Academy, every child has the potential to succeed.
We welcome you to join our community and discover
the lifelong learning and Jewish heritage that await you.